Most of us get rid of old autos when their engines finally give up, but one man has turned his battered old VW Beetle into what he claims is the world's smallest hotel.
And Mohammed Al Malaheem, 64, says guests sleeping in his converted jalopy in the Jordanian desert village of Al Jaya will enjoy a five-star experience.
"This village is my homeland, I was born here, I grew up here, I lived here," says Al Malaheem — who goes by the name Abu Ali.
"I wanted to start a project that improves its situation and places it on the tourism map, because it truly overlooks some of the most beautiful scenery in the region."
Largely deserted by residents who have left in search of a more modern lifestyle, Al Jaya is located near Al Shoubak, home to an imposing 12th century castle called Montreal.
Visitors to the area have been checking into Abu Ali's VW since he opened the roadside hotel's rusting doors after retiring in 2011.
Furnished by his daughter, the repurposed car is adorned with handmade embroidered sheets and pillows decorated with traditional patterns and embellished with colorful beads.
According to Abu Ali, an overnight stay here is so comfortable, it's equivalent to that of a night in a five-star hotel.
A sign by the side of the VW declares it the "smallest hotel in the world" — a title that, according to Guinness World Records, is bestowed upon the 2.5 meter wide Eh'häusl Hotel in Amberg, Germany.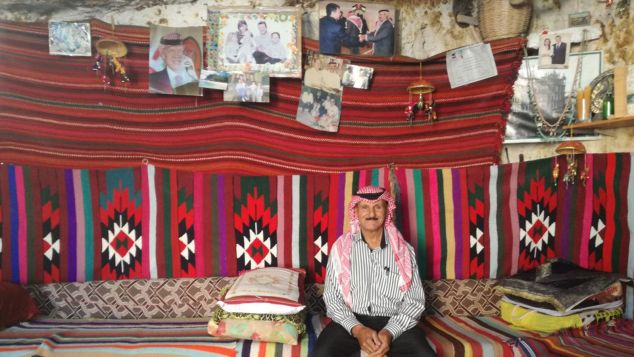 Abu Ali's passion for the project is such that he took on a bank loan to set up a hotel "lobby" inside a nearby cave, naming it "Baldwin's Grotto," after Baldwin I of Jerusalem, who built Montreal castle in 1115.
He uses it to serve visitors coffee, tea and traditional Jordanian snacks.
There's also a tiny kiosk-style shop selling souvenirs such as antiques, jewelry, gemstones, copper miniatures and historical artifacts, which hotel guests can purchase at the end of their visit.
Although it accommodates no more than two people at a time, Abu Ali says he has welcomed visitors from all over the world — amongst them VIPs.
Those who don't find a space to sleep, can enjoy a Jordanian breakfast or lunch, prepared and served the traditional Bedouin way by his wife, Um Ali, and daughters.
A night in the VW with full board costs 40 Jordanian Dinars (around $56).