The Archbishop of Uganda, Stanley Ntagali, will be the lead runner in a race designed to raise awareness of gender-based violence (GBV) next month. Archbishop Stanley will take part in the Gender Justice Run as part of the 16-Days of Activism against Gender-Based Violence. The international 16-Days of Activism campaign begins tomorrow (Saturday 25 November) and runs through to Human Rights Day on 10 December.
The run, at Mengo Senior School in Kampala, begins at 6.00 am EAT (3.00 am GMT) on Saturday 2 December; and follows the successful Run to End FGM mini-Marathon, which was held in Sebei on 16 September this year.
The Run to End FGM was established by the Diocese of Sebei as its response to the Church of Uganda's campaign against female genital mutilation, which is sometimes called female circumcision (FGM/C). The Church's campaign began in 2015 in partnership with the United Nations Population Fund (UNFPA), Uganda's Ministry of Labour and Social Development, and district teams.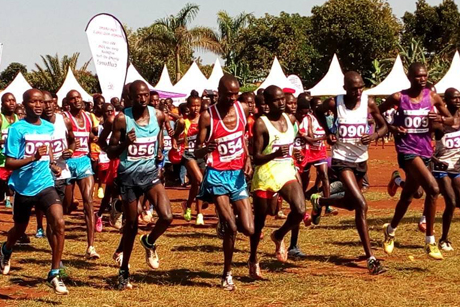 The campaign uses mass community mobilisation and awareness-raising techniques, including the Run to End FGM, which has become a popular activity drawing in thousands of participants.
"Since the initiation of these mass campaigns in 2015, reports show that 15 communities in the region have abandoned the FGM/C practice," Archbishop Stanley said in September. "There are some few hot spot areas that are still practicing FGM/C. With improved education and road networks in these isolated communities, there are real possibilities of totally eliminating FGM/C in this region and the gains will be sustained."
Speaking ahead of next month's Gender Justice Run, Archbishop Stanley said that the 16-Days of Activism are "our time to speak out against all forms of violence and gender injustices." Speaking in an advert to be shown on local television, he said that it "calls for responsibility and respect for human dignity from us all.
"Let's honour, restore and uphold God's image: from peace in the home to peace in the world."
The Church of Uganda is being supported in the initiative by DanAid, the international development arm of the Danish National Evangelical Lutheran Church. Dan Aid's long-standing work in Uganda is focused particularly on women who are affected by negative socio-cultural practices including sexual and gender based violence.