The bells at Westminster Abbey in London are ringing out in tribute to Queen Elizabeth and Prince Philip on their 70th wedding anniversary. The full peal of 5070 changes – the 70 a nod to the Platinum anniversary – is a continuation of the historic tradition that the Abbey's bells are rung for significant royal occasions; and will take an estimated three hours and 20 minutes to complete. Westminster Abbey is a "Royal Peculiar" – which means it lies outside the jurisdiction of a diocesan bishop and instead comes under the direct authority of the British monarch.
The Queen – then the Princess Elizabeth – and Prince Philip first met in 1934 at the wedding of Princess Marina of Greece and Denmark to Prince George, Duke of Kent. Their . Their engagement was announced 13-years later, on 9 July 1947, and they married in Westminster Abbey four months after that, at 10.30am on 20 November 1947.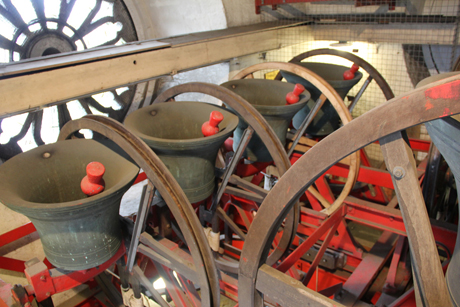 It was the tenth royal wedding at the Abbey. The first such wedding as King Henry I's marriage to Princess Matilda of Scotland on 11 November 1100. The Queen's parents, the Duke and Duchess of York, were also married at the Abbey in 1923. They later became King George VI and Queen Elizabeth The Queen Mother. The last royal wedding held there was the Duke and Duchess of Cambridge – Prince William and Catherine – in 2011.
Some 2,000 people were in the Abbey in 1947 to see the Queen and Prince Philip's marriage ceremony, which was conducted by The wedding ceremony was officiated by the Archbishop of Canterbury, Geoffrey Fisher, and the Archbishop of York, Cyril Garbett. An estimated 200 million people around the world listened in to the service, which was broadcast by BBC Radio.
After years of war, the wedding was seen as an opportunity for national – and global – rejoicing. Wedding gifts were sent to the couple from around the world.
Six years after the wedding, Westminster Abbey was the setting for the Queen's coronation. She has reigned for more than 60 years, making her Britain's longest-serving monarch and Supreme Governor of the Church of England.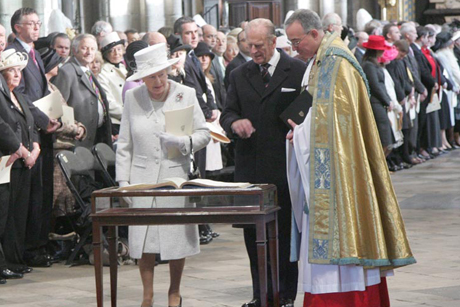 Special services were held at the Abbey, attended by the Queen and Prince Philip, to mark the couple's silver, golden and diamond wedding anniversaries. A similar service is not being held this year for the 91-year-old Queen and 96-year-old Prince Philip. Earlier this year, the Prince carried out his final formal public duty before retiring from public life.
Today's peal of 5070 changes of Stedman Canters began at 1.00pm GMT.