An innovative community regeneration project by the Hong Kong Sheng Kung Hui – the Anglican Church in Hong Kong – has been given an Award of Excellence by Unesco in its Asia-Pacific Awards for Cultural Heritage Conservation. The Blue House Cluster Project, by the HKSKH's St James' Settlement NGO, is the first project in Hong Kong to win Unesco's top award in this category.
The judges said that they were especially impressed with the efforts to preserve not only the architecture, but also the cultural fabric of the neighbourhood. The citation states that "this unprecedented civic effort to protect marginalised local heritage in one of the world's most high-pressure real estate markets is an inspiration for other embattled urban districts in the region and beyond."
The Blue House Cluster involves three buildings in the Wan Chai district of Hong Kong. The Grade 1 Blue House, the Grade 3 Yellow House, and the ungraded Orange House. The $56.91 million HKD (approximately £55 million GBP) transformation created a multi-functional services complex. The project was part-funded by a government grant.
Core to the project is a House of Stories, described as "a cultural and social innovation unit to systematically record, research, develop and exhibit stories in creative and diverse formats." The building also provides residential rental housing with a "Good Neighbour Scheme" for new tenants, who will need to commit to working to support the Blue House Cluster project; and a social enterprise unit, proving dessert and vegetarian restaurants "that can define the unique characteristics of traditional and healthy cuisine, as well as create employment opportunities and bring in additional income."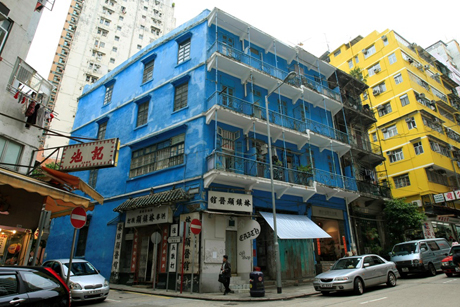 "This project serves as Hong Kong's first community-led, bottom-up and participatory heritage conservation model which integrates culture and heritage into development and pioneers community revitalisation," the Honk Kong government's heritage department said before work on it began. "The project will propel the sustainable development of an old community through tangible and intangible heritage preservation, cultural and social innovation, and creative social enterprises and entrepreneurship and sustainable regeneration models."
It was projected that the scheme would "strengthen the social networks of local residents in Wan Chai and maximise cultural connectivity of visitors."
After the renovation period was completed, the project created 17 full-time and seven part-time jobs; with priority given to applicants from underprivileged residents."
St James' Settlement was established in 1949 by the HKSKH as a multi-social service agency to meet the needs of people in society, and "to enable the individuals to help themselves and to help others."