For a man who's seen his teams score plenty of goals over the years, Pep Guardiola doesn't celebrate like a madman too often. Raheem Sterling can make him do it, though.
The winger's 95th-minute screamer is the third time he's had Guardiola jumping for joy this season, and the second time in four days.
In fact, given his goal against Feyenoord last week which secured top spot for City in their Champions League group, he has now scored late winners in his last three games.
In all, he has now scored 13 goals this season, and his goals have won City 10 points in the last 10 minutes of games in the Premier League and Champions League.
City have now won 19 games in a row in all competitions, and you could argue that it was Sterling's first last-minute winner which triggered it off. Guardiola certainly believes so.
It was at Bournemouth for the third game of the season when Sterling first sent Guardiola, and the travelling support, into raptures.
In his press conference the day before, Guardiola seemed genuinely worried about his side's lack of cutting edge in front of goal. He said he hoped something would click and, by magic, City would start scoring a hatful of goals.
Sterling then bobbled in a scrappy winner in the 97th minute, handing City a hard-fought win and, seemingly, that spark Guardiola was looking for. When it was put to Sterling in a Uefa press conference that that moment was a turning point in City's season, Guardiola, sat next to the England man, nodded his head profusely.
The Blues certainly went on a fine scoring run after that, hitting 32 in their next nine games. In recent weeks, though, they have been a little more sloppy.
Even if his form would still see him walk into any other team in the league, Kevin De Bruyne's radar has been a little off. Gabriel Jesus and Sergio Aguero, post-car crash, have been rusty at times, too. City's matches have seemed that little bit tougher. The 5-0s and 6-0s are now 2-0s and 3-0s. Or 2-1s.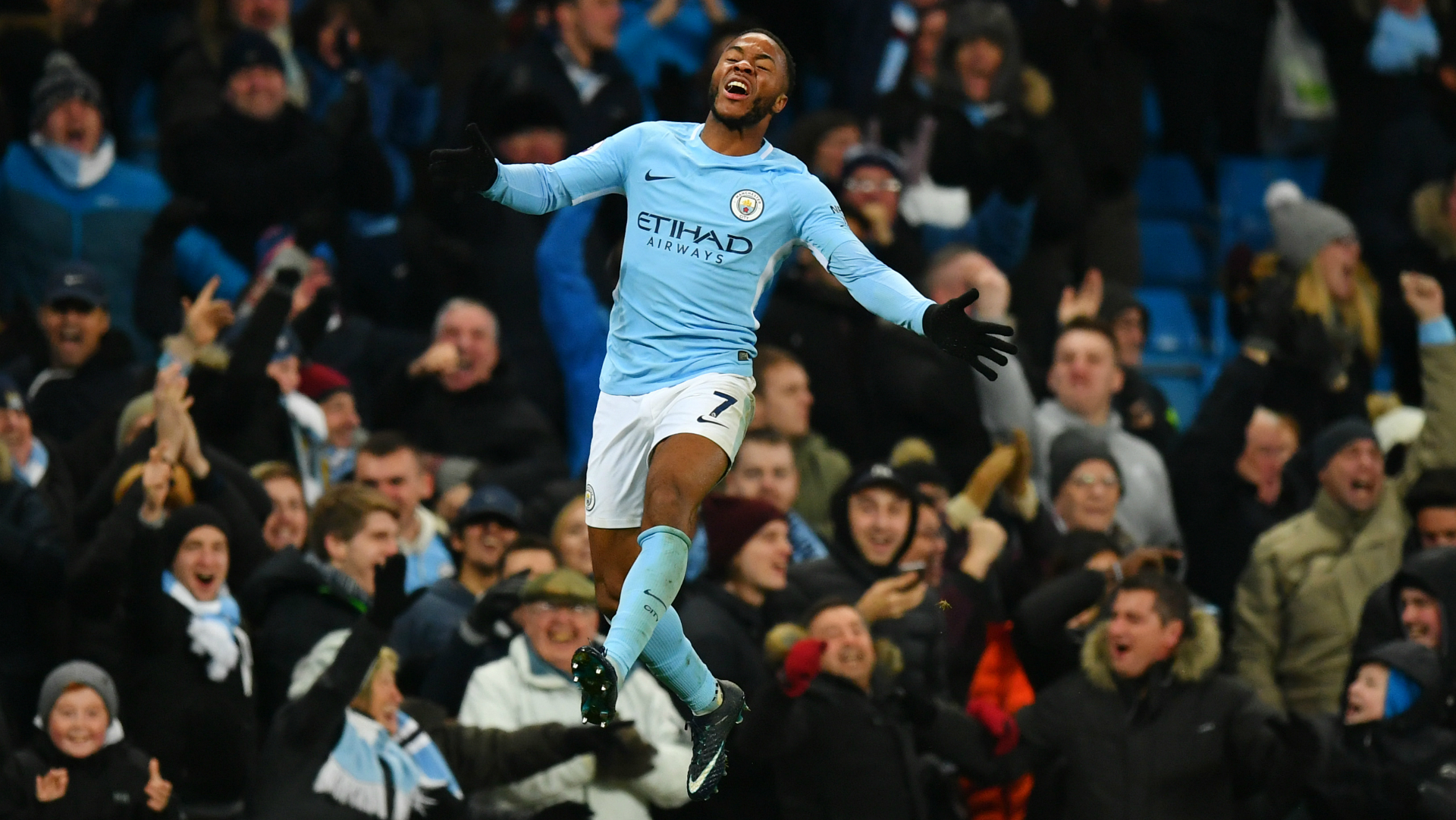 And those 2-1s are because Sterling has carried on doing what he's been doing all season. Not just goals, either. At Leicester earlier in November, he was instrumental in City's opener in a way that brought to mind David Silva's playmaking talents. There has been an all-round improvement to the England man's game.
At Huddersfield on Sunday, it was somewhat scrappier, but the fact he was in the box to see the ball bounce up off his knee and into the net proves he knows exactly where to be, and when to be there.
Guardiola has drilled that into his players and Sterling has clearly taken it fully on board; many of his 13 goals have been tap-ins. That is not a suggestion his goals have come easily, but that he is carrying out his orders to the tee.
Guardiola certainly enjoyed it as he jogged around the John Smith's Stadium, just as he had at Bournemouth back when the sun shining.
And then there are goals like Wednesday's, which prove he has far more to his game. Brimming with confidence, he must have weighed up the shot from the corner of the box when he cut inside onto his right, with his team about to surrender two points to Southampton.
He declined at first, however, shuffling the ball to De Bruyne. When he got it back, though, there was no doubt in his mind. Fraser Forster had been enjoying his best performance of the season, but he was helpless as Sterling's curling, looping effort evaded him and dipped tantalisingly under the crossbar and in.
Cue pandemonium. The City fans went wild but, more notably, so did Guardiola. The Catalan was wild-eyed with joy, jumping up and down with as much vigour as he has shown in his time in England.
Indeed, he nearly overstepped the mark when he went onto the pitch to celebrate, pointedly, in the direction of referee Paul Tierney.
"I think all sports create special moments and tonight in the last breath we enjoyed the celebration," he said after. "In the locker room all the people, all the staff, how happy they were. I wanted to run after Raz but I am not quick enough."
There was time only for Southampton to restart the game before Tierney blew for full-time. The celebrations resumed. Guardiola and his staff bounced up and down in the technical area. Benjamin Mendy, always the ringleader, joined in, getting in the thick of it and trying to get his phone out to capture the moment.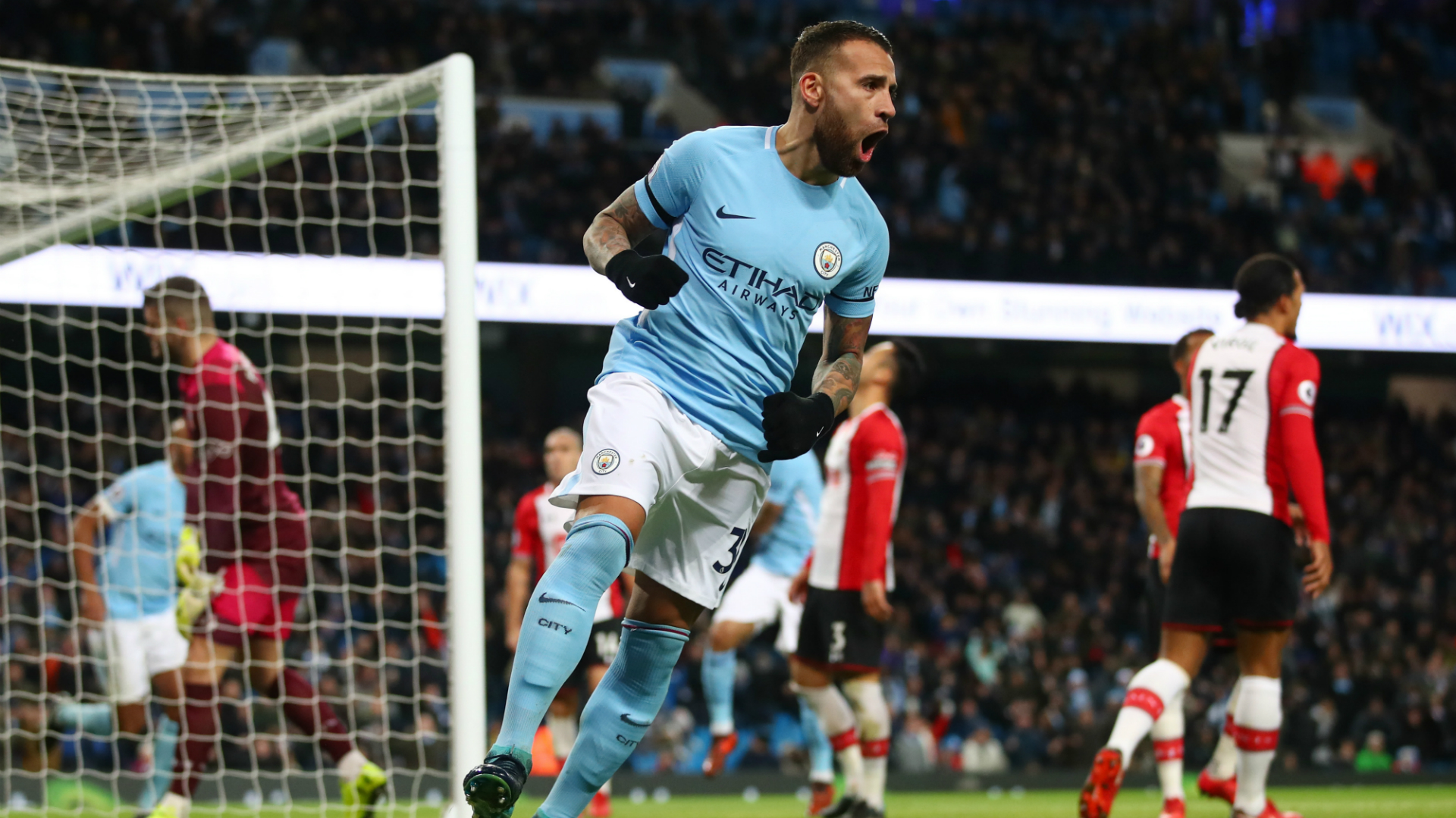 Last-minute winners are always looked back upon at the end of the season, perhaps as key moments in a club's season.
City have now had two in a week. Just as Manchester United, as leaders of the chasing pack, thought their luck might be in, the Blues struck in dramatic fashion.
Better said, Sterling struck. His goal here means City have now had the joint bet ever start to a top-flight campaign. If he carries on like this, Guardiola will be dancing even more come May.