Anglicans in Mexico are continuing to support the victims of September's 7.1 Magnitude earthquake. And in the Morelos-State town of Jojutla, parish priest Ericka Fierro is spearheading the support, even though she lost her house in the quake and was advised to leave the town and take shelter in the diocesan office. Ericka rejected the offer of sanctuary, and stayed behind with her eight-year-old daughter, Kissel. 370 people were killed in the earthquake – 228 of them in Mexico City.
The town's church, Santa Catarina, was amongst the many buildings in Jojutla to be damaged by the earthquake. The damaged dome on top of the bell tower has been demolished to prevent further risks; and a large high voltage power cable, lies in the street, from the parish house to the entrance of the church. But there is little danger from this – there has been no electricity in the town since the earthquake.
Buildings continue to be demolished, but the removal of rubble is slow – leading to piles of debris in the roads, hampering the flow of vehicular traffic.
The Revd Ericka Fierro was ordained to the diaconate in January 2001 and later to the priesthood. She serves the communities of Santa Catarina in Jojutla and San Pablo in Zacatepec. Both parishes are in the state of Morelos, in the Anglican Diocese of Cuernavaca.
At Santa Catarina, the church received more damage, when thieves stole a water pipe, leading to flooding. Inside, the church has buckets of provisions which are given to the victims of the earthquake. They are safeguarded to prevent further thefts.
Some of the provisions are sent to the Emiliano Zapata colony, where 500 families are living in tents. It is one of four camps in the district that have sprung up since the earthquake. Within the camp, a resident has made a simple sign on a piece of cardboard: "Gracias por si Apoyo Dios los Bendiga". It means "Thank you for your support. God bless you."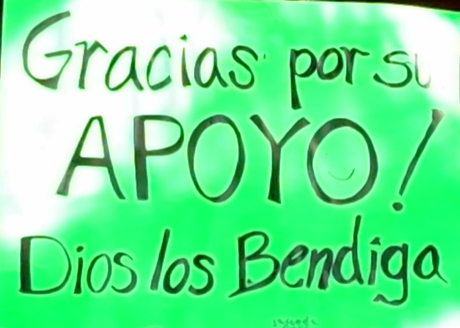 Some of the provisions have been donated by families who have not been affected by the quake. Before aid is delivered, Fierro delivers the recipient families to ascertain their needs before giving them a voucher which they can redeem at St Catarina.
She explained that after her she had to leave her own home, which was damaged in the earthquake, the Bishop of Cuernavaca, Enrique Treviño, "told me to go and to settle in the diocesan centre. But I said no, because I am needed here more. I cannot teach my daughter to run from the problems, but to help."
The current needs of the community include blankets to help people face the winter; and classrooms to educate the children – at least three primary schools have been demolished.
The church in Zacatepec has not escaped. Four pillars have been damaged and there are cracks in the wall at the bottom of the altar, as well as in the roof of a multipurpose room.