The new coadjutor Bishop of the Ghanaian Diocese of Koforidua, in the Province of West Africa, was consecrated in a park because the congregation was too large to be accommodated in the cathedral.
Bishop Felix Odei Annancy, the former Dean of St Peter's Cathedral in Koforidua, was consecrated last Sunday in Koforidua's Jubilee Park by Archbishop Daniel Sarfo. He will become bishop of the diocese in next Spring following the retirement of current Bishop Francis Benjamin Quashie.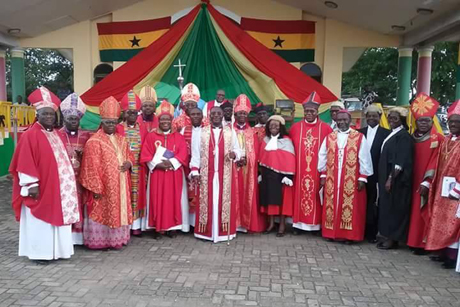 The Bishop of Tamale, Dr Jacob Ayeebo, was one of 16 present and retired bishops at the service. Preaching the sermon, Dr Ayeebo spoke about Jesus' command to Peter: "feed my sheep"; and told the new bishop what it meant to be an effective leader.
Some bishops and priests had abandoned the word of God and only preached the gospel of prosperity, Dr Ayeebo said, according to the Ghana News Agency. He urged Bishop Annancy to stand by the truth and always remember that he was called to preach the word of God to the congregation and stand for the marginalised.
Ordained to the priesthood in 1988, before becoming Dean of Koforidua, he served as director of the diocesan ministerial education centre and prior to that served in parishes in Obo, Akosombo, Akuse, Nsawam and Kibi.