It has been stressed that agitations are good and also an integral part of Societal development and growth, but the only bad aspect of such agitation is secession which will not brew any good for the people.
The assertion was made by Bauchi State Governor, Sen Bala Mohammed while speaking at the opening of a 2-day public hearing on the review of the 1999 Constitution by the House of Reps Committee on the exercise.
The Governor said that "Agitations as it is currently going on across the country, is welcome because it is part of democracy, the only thing is that the violence attached is not going to be good for anyone in the country."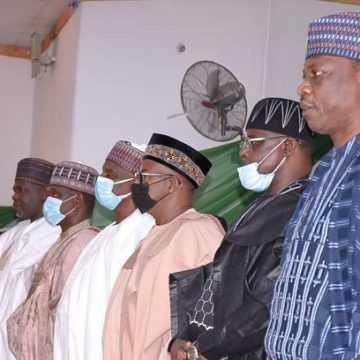 Bala Mohammed added that "All the agitations should be listened to, the positive ones should be considered and included in the new constitution. We need to do everything human and administratively possible to keep Nigeria one united and indivisible country. We need peace and peaceful coexistence in the country ."
The Governor emphasized the need for true federalism where the center will have minimal control of power saying, "the states need to control more power to be able to effectively manage the people of their states. The states need to be more responsible to the people."
He also stressed the need for traditional institutions in the country to have constitutional roles in the governance of the country because according to him as royal fathers, they are closer to the people and positioned well to advise.
Bala Mohammed further called for the creation of Katagum state out of the present Bauchi State as well as create more LGAs in the state saying that, such will take development down to the rural dwellers who do not have direct access to government at the states pointing out that devolution of power needs to be taken care of in the next constitution.
Earlier in his speech, Chairman of House of Reps Committee on the Review of the 1999 Constitution, Ahmed Idris Wase assured that every opinion and position paper submitted will be looked into and presented for harmonization.
Ahmed Wase who is the Deputy Speaker of the House of Reps stressed that review of the Constitution periodically is part of the democratic process because according to him, people need to give input on how they are governed.
Represented by the Zonal Chairman of the Committee, Aminu Suleiman, the House of Reps Review Committee Chairman called on people of Bauchi, Borno and Yobe states that make up the zone to feel free to make submissions to the Committee assuring that it will be looked into.
He further assured that only what is contained in the submission will be reflected on by the House of Reps Committee on the review of the 1999 Constitution declaring that the new constitution will be reflective of the agitations.
Source: Nigerian Tribune