The key-players in Kenya's disputed presidential elections – President Uhuru Kenyatta, opposition leader Raila Odinga, and Supreme Court Chief Justice David Maraga – were present at All Saints' Cathedral in Nairobi yesterday as Archbishop of Canterbury Justin Welby spoke of the importance of reconciliation. They were marking the centenary of Kenya's mother-church, in a service shown live on national television. After the sermon, President Kenyatta said he had heard the archbishop's call, and shook hands with Mr Odinga – their first meeting since the disputed October election.
The Supreme Court had ruled that the original election, on 8 August, was "neither transparent or verifiable" and annulled the result. An eve-of-poll legal challenge to the second election, on 26 October, was halted because there wasn't enough judges available to hear the case – one Supreme Court Justice's bodyguard had been killed. Raila Odinga urged his National Super Alliance (NASA) supporters to boycott that second poll. A fresh legal challenge to October's result is expected to be launched today.
In his hard-hitting sermon, Archbishop Justin said that Kenya should be a model of reconciliation. "This land is the cradle of human beings. Human life started here," Archbishop Justin said. "You have the gospel, and you have shown us how to live it. Your churches are vigorous and full. You live in harmony between faiths. Can you not show us how to be a country of reconciliation, that we may learn? There is a deep hunger around the world for an example of great differences handled well."
The service at All Saints' Cathedral was broadcast live on national television and featured in news reports, such as this one, from NTV Kenya
He continued: "A Christian people will be reconciled reconcilers. They will deal well with disagreement. They will know how to forgive, how to stand for truth, and not to hate or fight; how to rule and to oppose; and how to make a nation whole and healed.
"Reconciliation, tragically, is profoundly rare. . . In so many countries, including my own, including this one, there is a need for reconciliation. It must become part of our DNA – part of Kenya's DNA."
He continued: "I am not talking about results and outcomes of elections – that would be interference by me as an ignorant outsider. But I am talking about how disagreements are dealt with, because that is the call of the pastor as has been shown by the churches and many, many others in this land. I am not calling for mediation but for the steady and long-term work of building structures of reconciliation, the capacity to deal with the nation's challenges in a way that brings peace and a future even when there is deep disagreement."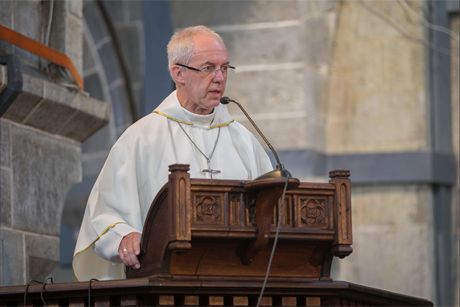 After the sermon, President Kenyatta was at the front of the church to receive a book detailing the history of All Saint's Cathedral. He took the opportunity to tell Archbishop Justin: "We heard your message of reconciliation. And I hope that every single person in this room has also heard that message." As he returned to his seat, he paused to shake hands with opposition leader Raila Odinga. He later invited the opposition leader to talks aimed at ending the current political stalemate in the country.
During his visit, a small Anglican delegation led by Archbishop Welby and the Primate of Kenya, Archbishop Jackson Ole Sapit, held separate private talks with both political leaders. In an interview with Kenya TV's KTN News Weekend Prime programme, Archbishop Justin declined to discuss the details of his conversations – saying that they were private talks – but he explained that the leaders discussed regional tragedies, including the situation in South Sudan and Somalia, in addition to the situation in Kenya.

Archbishop Justin Welby is interviewed for KTN News Weekend Prime programme
Reconciliation is one of three priority areas for Justin Welby's ministry, alongside prayer and the religious life, and evangelism and witness. In September he was named as a member of the UN secretary general's new High-Level Advisory Board on Mediation. Asked about the role of the international community in bringing reconciliation to Kenya, he said: "reconciliation is done by the parties involved in the difficulties. You can't impose it on people, but you can encourage, enable and take away obstacles to it."
He said that there was a danger of not getting involved, leaving people feeling abandoned; or getting too involved, leading to people feeling controlled. "There is a middle way, which is about support, encouragement, and help, while saying: 'you've got to sort this out yourself.'"
The interviewer asked the Archbishop how reconciliation can be brought to the Anglican Communion on matters to do with disputes over sexuality and same-sex relationships. He acknowledged that Anglicans – and Christians in other Churches – have "deep divisions" over it, and said: "Our challenge is to work our way forward, holding on to the truths that are given to us through Jesus and in the Scriptures; and yet never sinking to the level of demonising or hating people because they are homosexual. And living with that tension is something that we are struggling with. It would be idiotic to deny that."
He described last month's Primates' Meeting in Canterbury, where the Primus of the Scottish Episcopal Church briefed global Anglican leaders on their decision to perform same-sex marriages, as "a good example." Archbishop Welby said: "The discussion was extremely robust, but it was a discussion within the family – like a family argument. It was tough, but we continue to love one another."
He said that it would be "difficult to come to a single view" within the Anglican Communion on matters of sexuality because "the cultural differences are so great" and because Archbishops of Canterbury didn't have Pope-like authority to impose doctrine on the Communion.
"What I do think we can do within the Churches, and the Anglican Communion, globally is to demonstrate that we can love one another and yet disagree very profoundly – what I often call 'good disagreement'. The worst of all things is just to be like the world and where we disagree, to hate one-another – that is a betrayal of Jesus Christ in the worst way."
SOURCE:Anglican Communion News Service